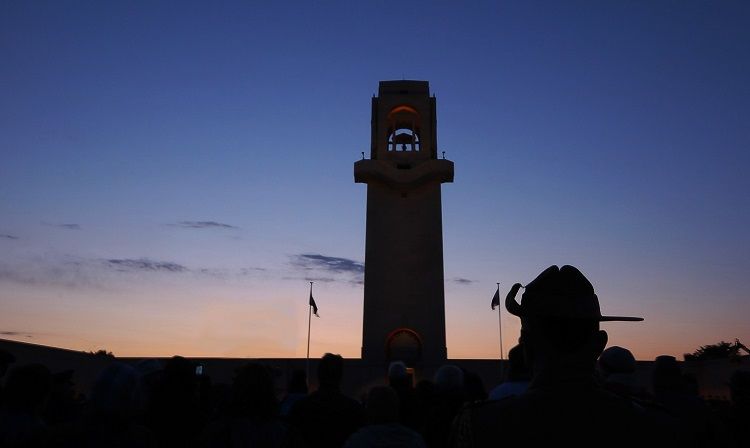 ANZAC Day is the day that Australia and New Zealand commemorate their citizens who died in combat. Observed on 25 April each year, Anzac Day was originally devised to honour the members of the Australia and New Zealand Army Corps (ANZAC) who served in the Gallipoli campaign, their first engagement in WW1.

The Australian National Memorial in France to the fallen in WW1 is on the chalk downlands 1½ miles north of the village of Villers Bretonneux, on the D1029 between Amiens and St. Quentin . The memorial and surrounding cemetery were designed by Sir Edwin Lutyens.

Of the 10,982 names displayed at the unveiling of the Villers-Bretonneux Memorial the burial places of many have since been identified and this continues to this day. As a result, there are currently 10,729 Australian servicemen officially commemorated on this memorial.

Every 25th April a commemoration ceremony is held at dawn at the memorial. It is increasingly well-attended. On the occasion of this photograph 3000 chairs were put out. A further 2000 people stood. The event was relayed live on TV to Australia.

The village of Villers Bretonneux was fought over repeatedly in WW1 and consequently reduced to ruins. The first ever tank against tank battle took place here on 24th April 1918. After bitter house to house fighting Australian troops recaptured the village from the Germans on 25-27th April 1918, adding to the significance of ANZAC day at Villers Bretonneux.

As a result, the Australian city of Melbourne and The State of Victoria in general have sponsored the village, particularly the school, rebuilt using donations from school children of Victoria, Above every blackboard is the inscription, "N'oublions jamais l'Australie" (Let us never forget Australia). There is a small museum of WW1 artifacts in the school.